Do you know the impact of apparel photo retouching services on clothing product sales through an e-commerce platform? Do you have an e-commerce clothing store and have enough experience in the apparel industry? If your answer is "Yes" then you can be able to make a comparison between a photo with professional photo retouching and without any type of photo editing service or retouching. Mainly, Photo retouching is the pre-condition in the Apparel industry when you upload a cloth photo whether it is a normal t-shirt or a costly wedding gown. You must be agreeing with me that you can't keep the original view of cloth in its row image. Consequently, you can't avoid the touch of photo editing. There are several photo retouching services needed to prepare an apparel photo to show the audience through an online store.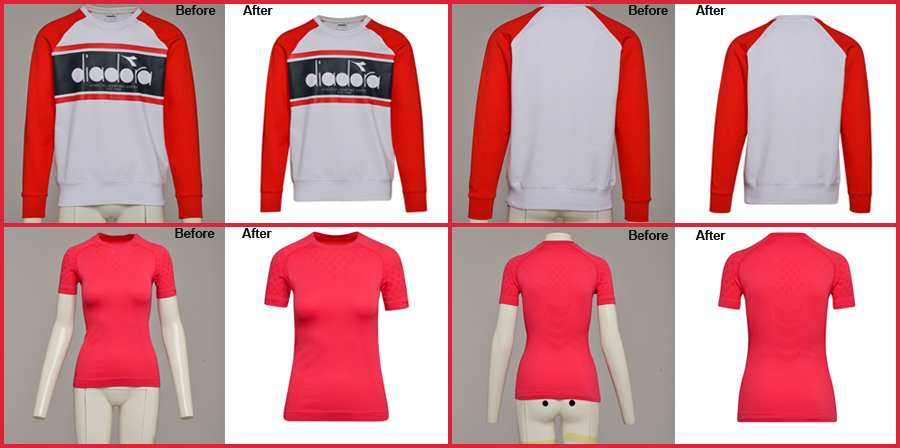 Mostly Applied Photo Retouching Services for Apparel Photos
Background removal or enhancement applying clipping path service
Removal of Unwanted accessories
Color Corrections (enhancing and sometimes changing the colors)
Adjusting brightness & contrast
Fixing wrinkles and scratches
Adding Special effects if according to the requirements
Straightening the images by liquefying
Removing stains from apparels
Neck joint or ghost mannequin services
Actually, the above services are the main features of apparel photo editing services or photo retouching services. You can't avoid any of them if you desire to be successful in the online apparel business. There many online merchants in the USA, UK, Australia, Germany, Italy, Canada, Brazil, and other countries of the world who are selling their apparels through Amazon, Walmart, eBay, or their personal web-shops. So, you may visit their stores and I can challenge that you can't find any of their product photos without using a photo retouching service.
Where Do You Get Low-Cost Photo Retouching Services for Your Garment Products?
Just let us know the number of your apparel photos; we will help you to solve your problems. We have a skilled photo editing and retouching team in a low labor cost area in an Asian country. As a result, it possible for us to give you the best service at a reasonable price.
Finally, you can try a free trial, because you don't know us and our service quality. We always welcome our new clients to build long-lasting relationships forever.