10 Free Image Optimizer for web image optimization.
Are you on too much pain about the loading speed of your webpage? Of course, it is very painful having a lazy webpage. A best free image optimizer can relieve your pain. Day by day web-page loading speed becomes very important to both the visitors and search engine.
If the images of your webpage optimized properly then you have a chance to avoid long loading time and get more visitors.
Image optimization is a process of making the image balanced according to dimensions. The image will become light, easier, and exact size after completing the action. On the web, a high quality image like straight format, large format, extra-large format, or low-quality cause harm without work, and sometimes you can mistake in uploading. So, it is of great importance for the right kind of image accordingly to size, resolution, and dimension.
 Sometimes your pages are full of photos and at this moment you need to optimize them to speed up the loading while the quality of your image will remain unchanged.
You may use image optimizer from the web to reduce the size keeping the quality. There are many image optimizers in the web we just discuss here 10 best free image optimizer.
1. JPEG Optimizer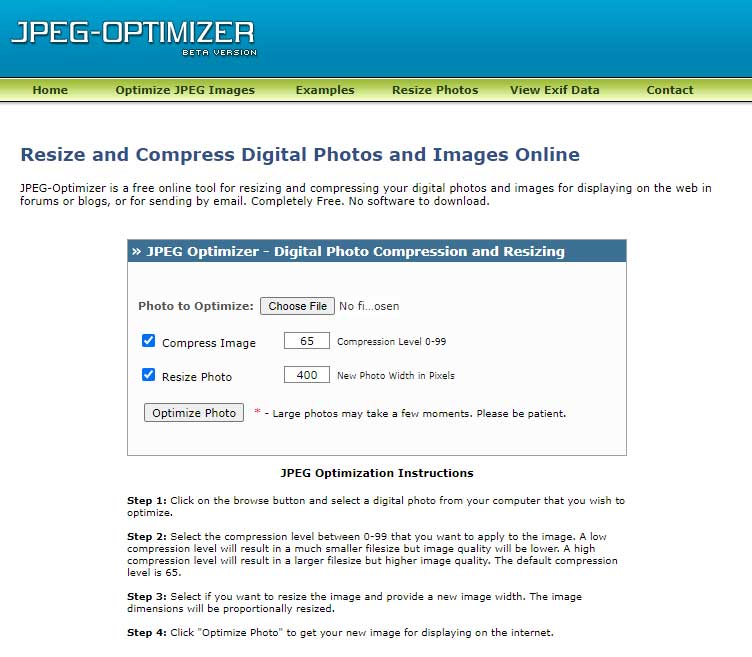 JPEG optimizer is a famous and simple free image optimizer that is easy to handle for its function. This is a wonderful system that decreases the images megabytes and causes weigh less. It means large file into simple file but the usefulness is okay. The free JPEG optimizer can resize your image and here you can find an EXIF reader.
Advantages:
Easy to use
Lower the image seize
Nice function
Disadvantages:
Only JPEG supportedOptimizilla:
2. Optimizilla: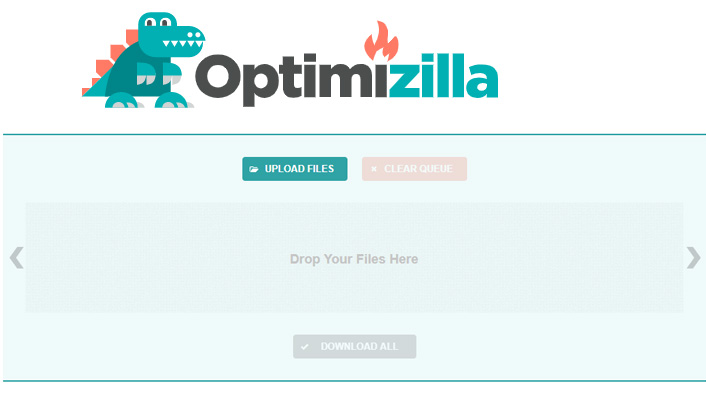 Optimizilla is better than JPEG as it goes to PNG. On the action, an image comparing result to the original image may satisfy the result. The user of this program takes the acceptable quality. The program 20 best format seizes can be imported where JPEG sets separately.
Advantages:
It can handle 20 photos in a load
A controlling optimizing system
On the input and output there is a preview system
Drag and drop supporting
Disadvantages:
Separate downloading system
3. Resize Photos: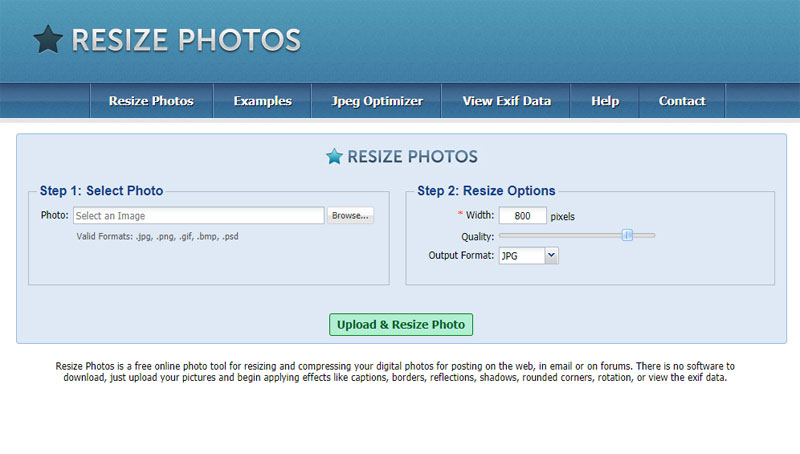 Resize Photos is one of the 10 best free image optimizer. It can handle resizing photos for the web. The importing images can be selected from the optimization level 1 to 100. The photo editing effect is the best addition of this optimizer. To decorate the picture, here you can add borders around the edge, shadows, captions, and reflections.
Advantages:
Increasing captions
Adding borders, round the corners
Reflections or shadows and rotating
Photo compressor free
Disadvantages:
Exact deterioration in image quality is possible
It may be tactful for a newcomer.
4. Online Image Optimizer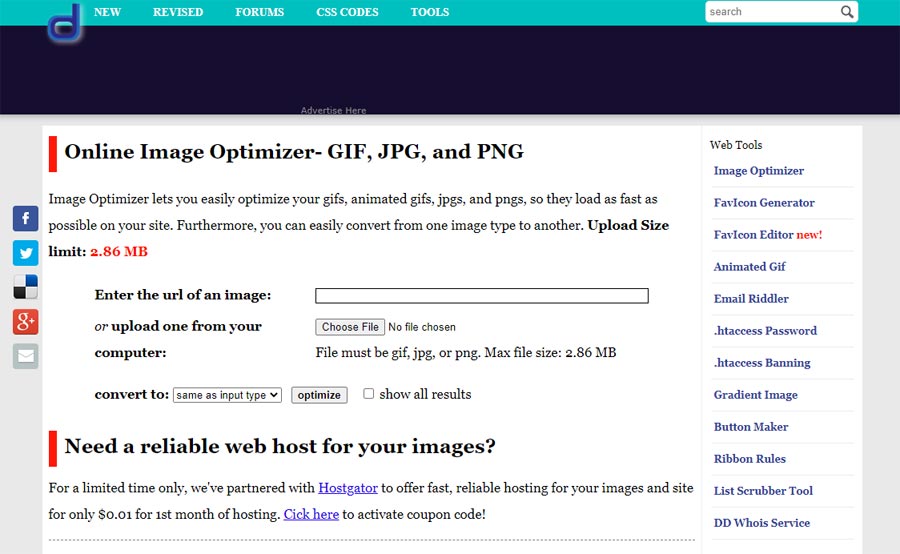 Online image optimizer is one of the best free image optimizer tools where you can use the major format in the online. In several clicks, you can easily convert the files from one extension to another extension by giving more clicks.
Advantages
Quick and fast
Very comfort to use
Quickly converts files
Disadvantages:
Uploading limit seize is unknown
Separate uploading system
5. Trimage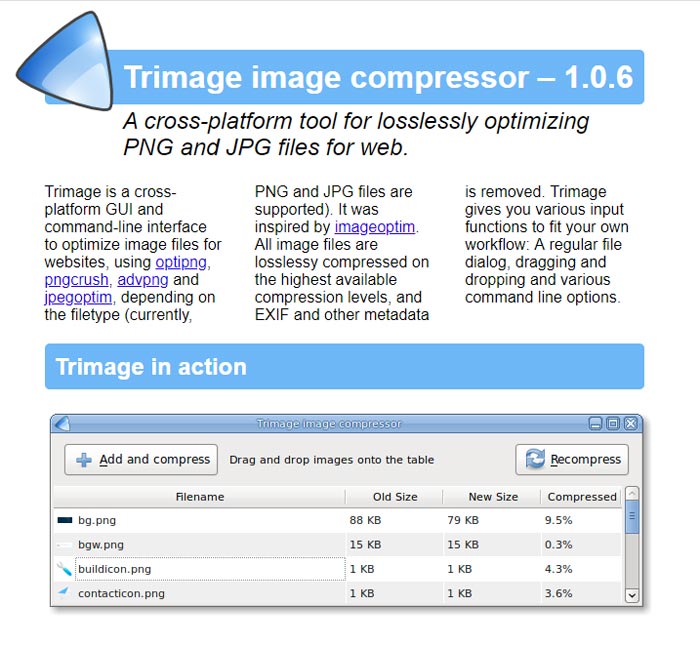 Trimage is a good kind of free image optimizer where you will be found an intensive compression process. The favorably supported files are JPEG and PNG. On the other hand, Mac usurer can also choose another photo compression.
Advantages:
A great photo preservation clarity
Simple pick and drop option
Operating to the cross-platform
Disadvantages:
6. CompressNow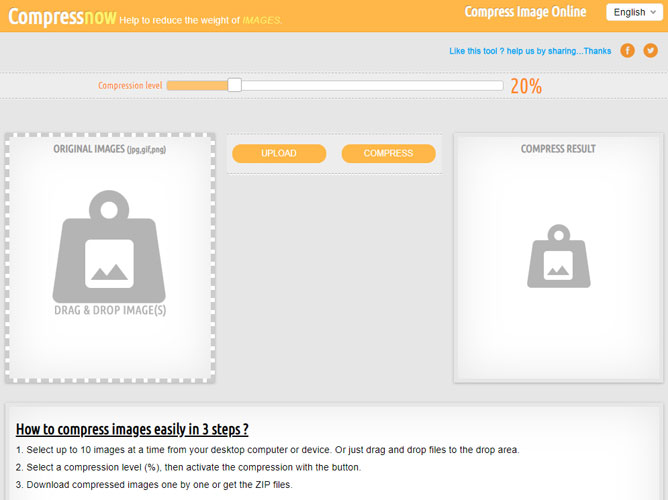 Compress Now is the best free image optimizer to a great upload system. You can also perform here JPEG, PNG, and GIF animations. You can set the expected compression intensity and use them for future purposes. In the uploading type, there you can draw a full bunch of 10 for collecting optimization.
Advantages:
10 pack of images optimization
Easy to pick  and easy to drop the operating mode
The intensity of the compression can be control
Disadvantages:
Importing image limits to 9 MB
7. PunyPNG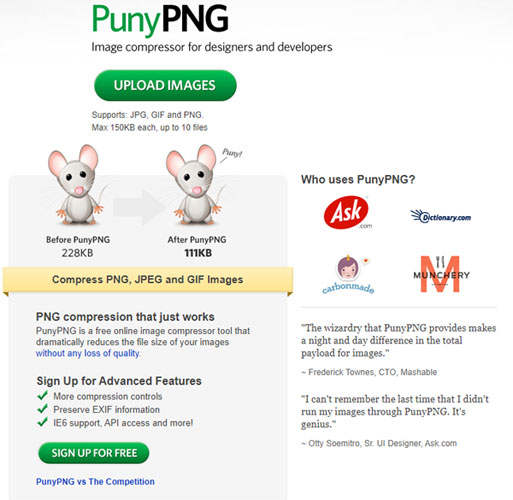 PunyPNG is a good quality of image optimizer for digital design and web development that can lessen the file size where you will not lose your image quality. It has some algorithms, expresses every image to choose the dear one for this case. Many of file extensions support and it will choose the optimal idea. The subscription per month is very low.
Advantages:
Fast and simple to use
Resizes without losses
The instance optimize-20 images
Disadvantages:
If necessary, there is a pro version
Long period for the free trail purpose
8. ImageOptim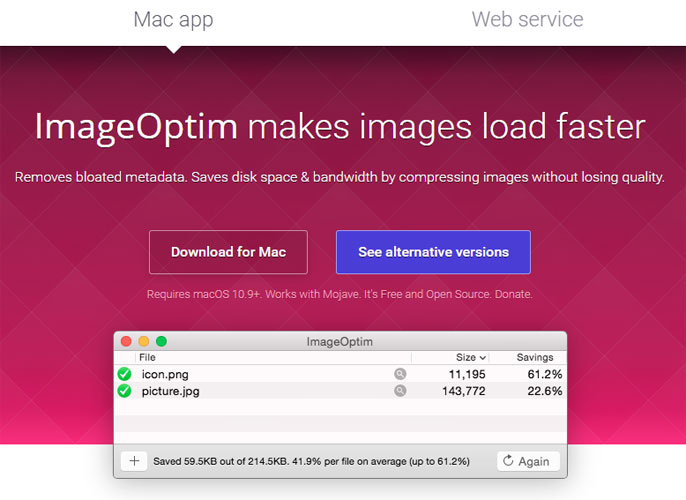 ImageOptim is a useful image optimizer and it would the great choice for the mac users. The program algorithm gathers the loss-free optimization. The supported format is quiet big and add JPEG, PNG, and GIF. It is quite a free image optimizer. Here you can find some image optimizer tools that Zopfil, PNGout, JPEGoptim. It can finish any kind of EXIF.
Advantages:
Photo quality great
Changeable interface
Free
Disadvantages:
9. Caesium Image Compressor
Caesium Image Compressor is a nice image optimizer that is free for the windows users. You can process your images JPG, PNG, JPEG, and BNP format that it can change the intensity of downsizing. The latest two software versions are 64 bit and 32-bit windows system.
Advantages:
Useful preview system like before after
Realization the compression intensity
Disadvantages:
Use only for windows
A few type of function.
10.  Imagify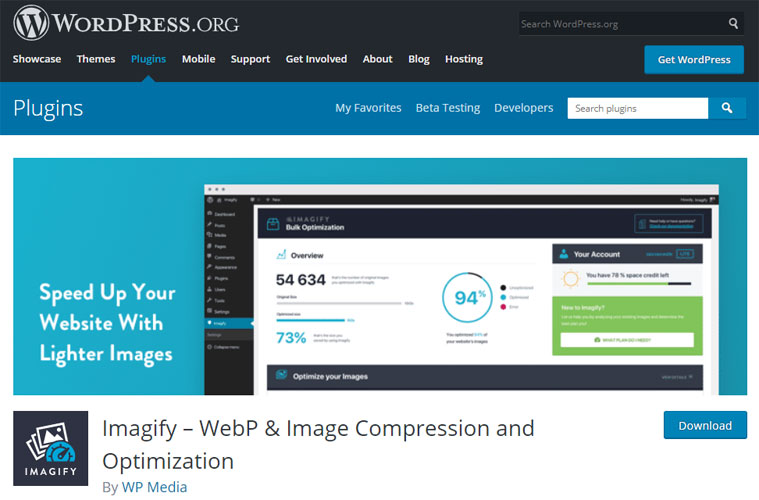 Imagify is a WordPress plugin and a good image optimizer where there are 3 sections setting: optimization, general setting, and display setting. There are all set is a page. It uses the image compression modes with a serial. You will find here the automation width for all pictures. It is a good feature of this optimizer. There are two types like an ultra loser and normal lossless. There is an automation feature.
Advantages:
APIconnection is still now
Has a backup
 system
Retina images and thumbnail can be compressed
Disadvantages:
Get a long time for initialization
The software is not simple
In a nutshell, now a day people use image optimizer on different occasions. 10 best image optimizers can resize your images according to your necessity. Everyone would like to get his/her page light and load free and an exact quality page is not unreliable