When we deal with images, we need to remove backgrounds for different purposes.  Now there are numerous free Online Tools to Remove Background from Photos. The background removal process is quite fast, and you don't need to edit the photo in detail. With a single click or some easy steps, you can easily remove the background and set the desired background in your photo. Usually, a background removal tool automates the process of remove the background from an image. It can make the process easier and less time-consuming compared to manually erasing the background. Here in this article, we discussed the ten best background remover online tools to apply to set your desired background.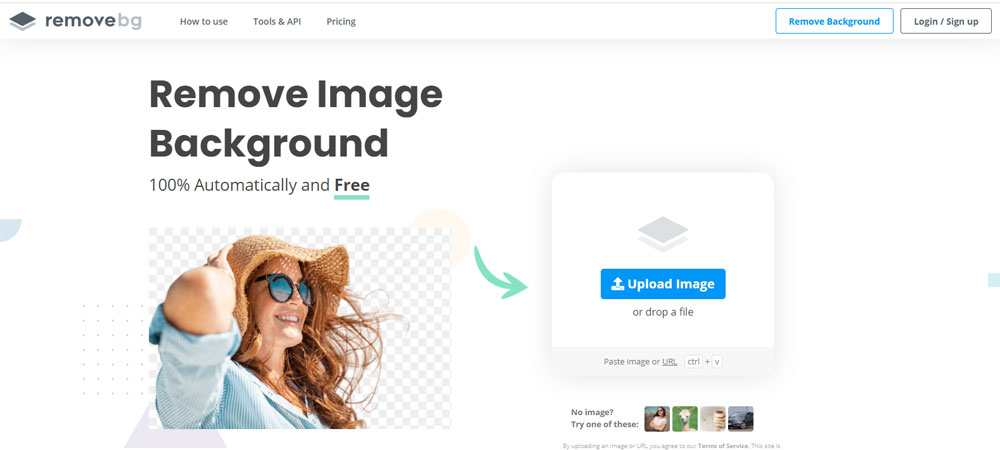 Remove bg is a popular online background removal tool with a simple and easy to use interface. You can remove your image background with a few simple steps, which you will find a lot of fun to do. The basic steps are is to drag and drop, upload or paste photos from your computer hard drive or give the URL links of the photo you want to be edited. Then you can download the edited image from the website. It proves to be the best background remover online. If you like to remove background from image free, this is a great tool.
This online background remover tool is equipped with an intelligent AI engine to remove an image background. It will provide your photos within a few seconds.
It cannot process images of more than 25 megapixels. If your image size is more than 25 megapixels, the Remove.bg resizes it. To get the desired full resolution images, users need to sign up for the premium subscriptions.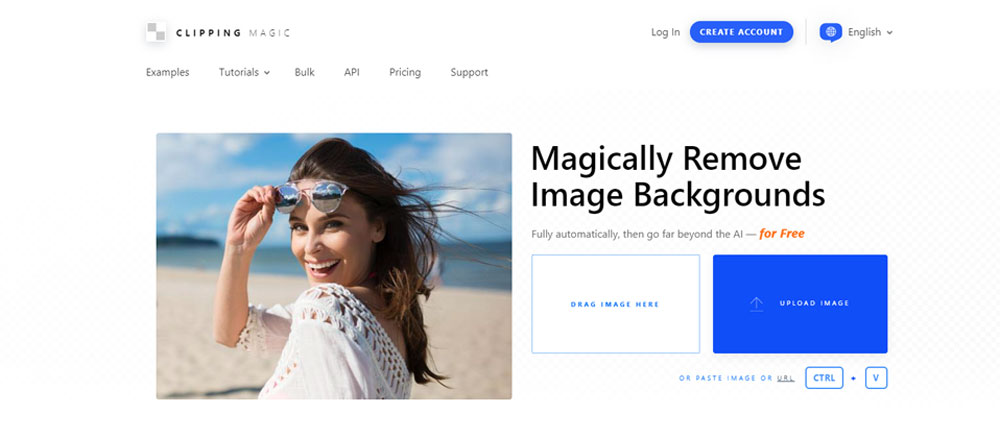 Clipping Magic is another online background remover tool that you can use for your images. It is free in the trial versions. It works like magic to remove the background from your images and gives you your desired object. You don't need to do too much editing. This is highly useful for your websites. You may need to remove backgrounds from your photos, particularly e-commerce product displays. Clipping magic can perfectly remove unwanted objects from your photos if you are a novice or have little idea about photo editing. Then the online tutorials can help you to perform your task.
This background remover online tool is utilized to clip images fully automatic with minimal human involvement in the process. You need to upload an image and get the background removed image instantly.
This online image editing tool is not free. If you upload more than 8 megapixels, it may not work for the free trials. You have to subscribe to premium plans to get the full functionality.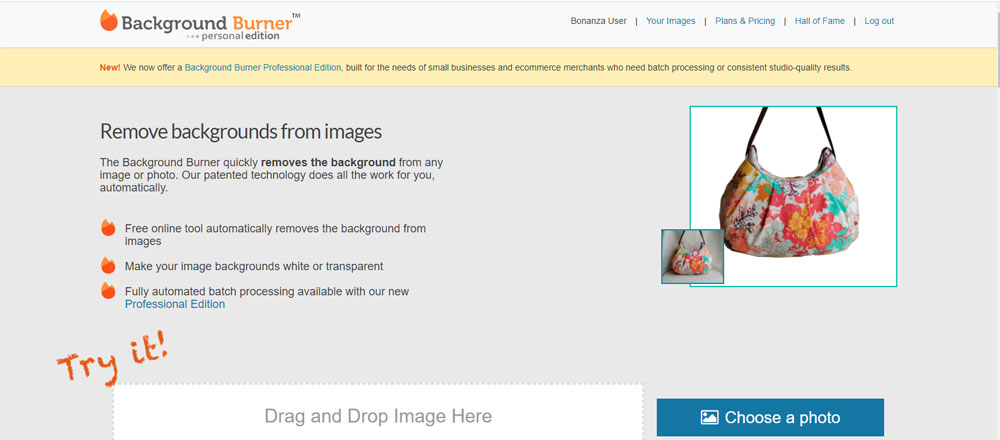 Background Burner is an automatic background remover online tool in analyzing images. It also can detect the details on every photo for an appropriate background. It can easily isolate the objects that are in the foreground. Finally, it can remove the objects from your photo. Those are part of the background. There is also a one-click option to remove the background from the software. Background Burner can instantly remove backgrounds from any photos. 
Its powerful AI technology does all the work for your image background removal. You as a photo designer, you can choose between a transparent and multi-color background. It has customizable settings available for further editing, and it will require you some time and precise tracing to get the best image.
You will get 3 previews of pre-processed images after uploading one image. You can select or edit the best selection between them as per your requirements. A task like a photo editing and refining through clipping masks is available. You can easily upload your desired images and edit them as you like best. You will also have the background removal with a full preview mode.
Limited option for image format type, and you can choose only JPEG or PNG. Login is required to download an image, and it will require you a subscription plan to download full-resolution images.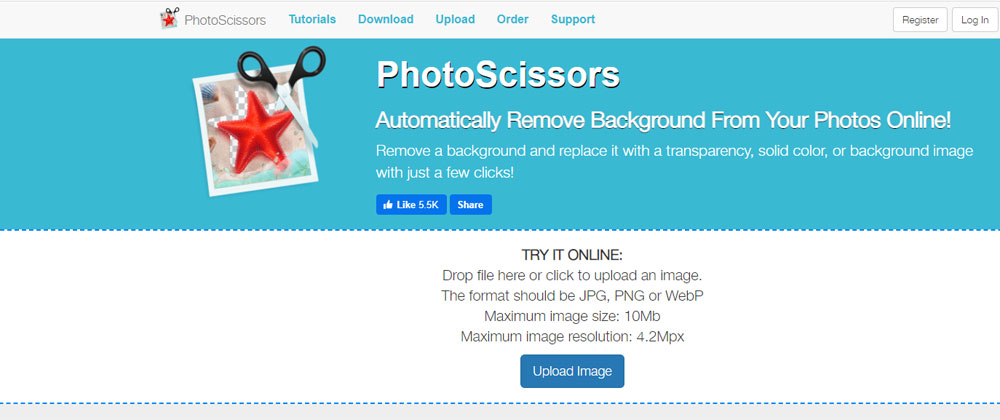 Photo Scissors is a powerful free online background remover tool that is easy to use. You only need to mark a selection area removed from your image, and the software will do an automatic analysis of the clipping edges. You can have a great photo with a few clicks, and this background removal tool requires minimal effort to edit your photos. Photo Scissors can be a great time saver when you need to remove a bulk amount of photos. 
It can isolate a person or any object from your photos very quickly. The background removal process is quite simple. At first, you have to upload an image, and the auto removal engine will remove the backgrounds of your photos using deep AI Algorithms to isolate the unwanted background objects. At present Photo, Scissors is regarded as one of the best and effective background removal tools online.
You can easily remove the unwanted background from your image with few steps. Have a drag and drop option to remove the background objects. You can select a wide range of image formats to download up to 10 Mb size.
It requires you to log in to the system each time you download your image. It gives an inaccurate selection when it comes to processing photos with busy backgrounds. You may need a manual selection for complex photos to remove its background objects.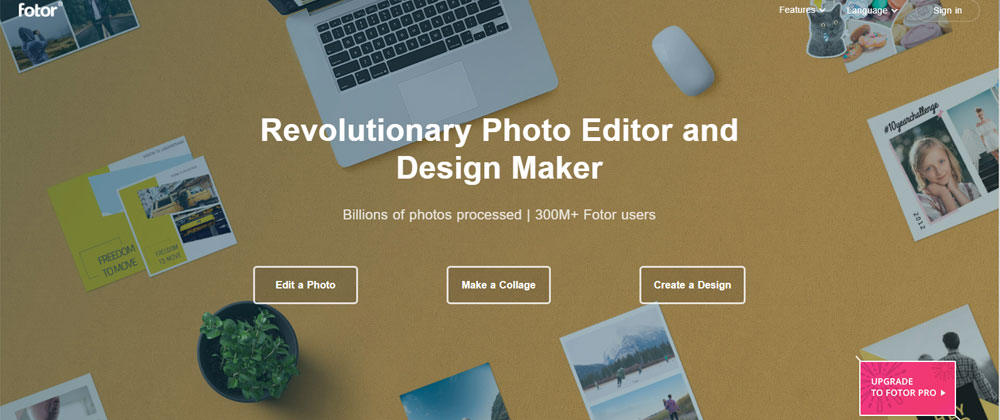 Fotor is another popular online background removal tool. This software's background removal process is quite simple, and you can do it with minimum effort. It has a simple and straightforward background removing process that can give you the desired image within minutes. It requires a little effort since the program automatically isolates the foreground objects from the background objects. You will find it simple, easy, and fast to edit your images. Fotor has steps to remove the background of an image. Additionally, you can transform into a transparent background of your image with a single click.
It is very straightforward and easy to use. It took a few minutes to trace the outline of the object to maintain, which takes time. The edges look a little rough in some areas, but the result looks good.
Fotor is not completely free. It may require several clicks to remove the background of a photo. This tool requires a bit of effort to create a selection to remove areas and retain what you want to keep. There will be a watermark on your downloaded image after making changes to it.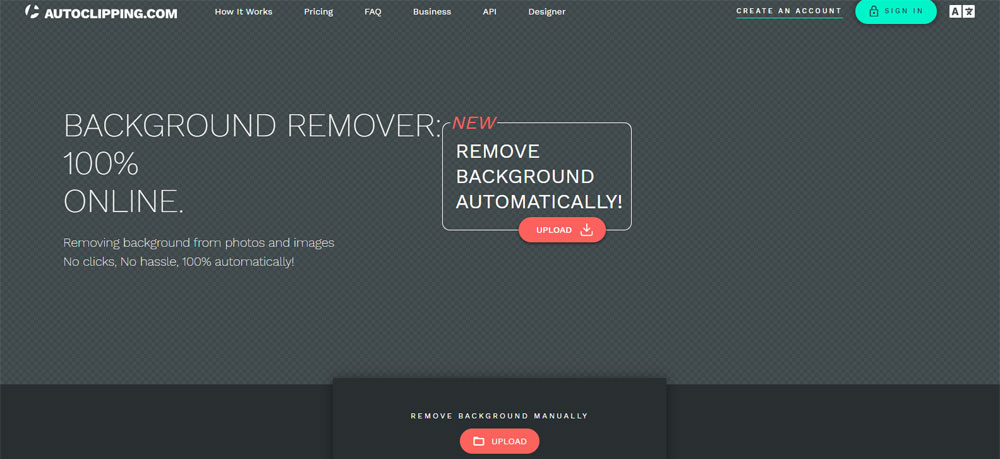 The Auto clipping is an online photo background remover tool that you apply to your images. Using this online photo editor, you can create a better quality image with minimum effort. This internet-based background image removal system was originally developed by a group of programmers with some financial background. The cutout was smooth; both sharp edges could get feathered like the area between the chair's legs, as you can see in the final image rendered. The result is good but has a watermark.
Auto Clipping has a powerful selection tool that works more like a quick selection tool for Photoshop. This smart selection tool lets you select your unwanted background objects easily. It has automatic color selection tools as you move around the areas of foreground and background.
When you download your edited image, watermarks are placed over the image. However, when you retouch your photos, there should not be any watermark on it.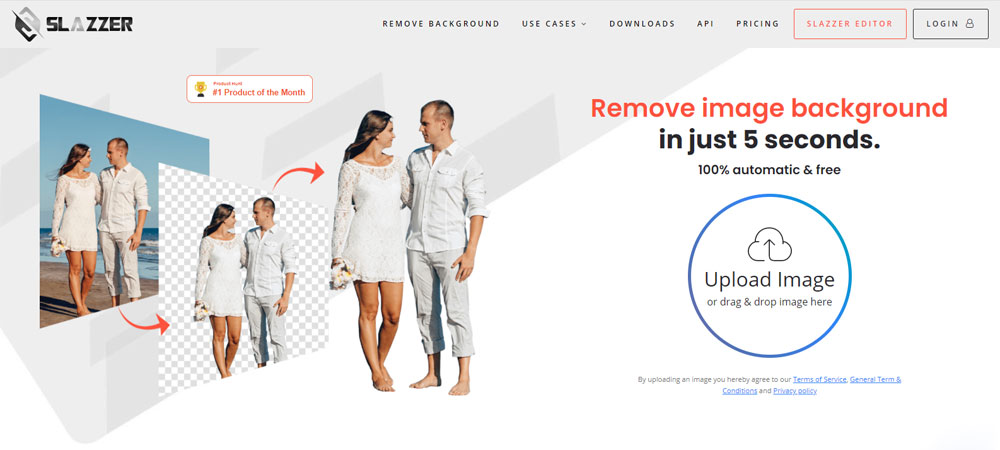 Slazzer can serve your need to remove the background from your images. This online-based background remover tool effortlessly allows you to create transparent backgrounds in your photos. Its AI-based background remover engine will give you the best performance for your product photos. You can easily choose your favorite color that you can apply to your photo background. Slazzer is best to remove the background in photos or product photos from e-commerce product images. Color selection is straightforward, and you can easily rely on this online background remover tool for your online product photos.
Automatically remove background from images. It is fast and can easily remove background from images with few clicks.
In the case of dealing with colors, it showed that some defects. In photo masking, it may not give you the best result.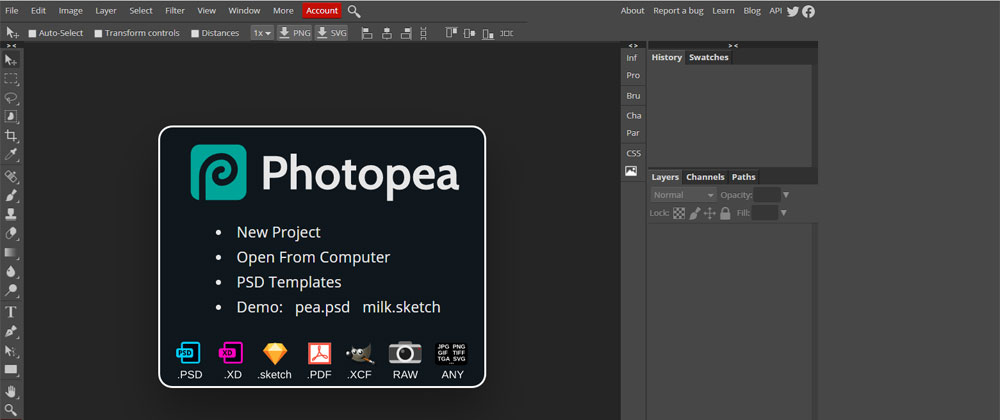 PhotoPea is an awesome free online background removal tool that allows you to remove unwanted background objects from your photos. Photopea provides you a great background removal tool to help you erase backgrounds easily. Its user interface is very similar to the popular photo editing tool Adobe Photoshop. Here you can use the cutting tool to separate an object from its background. You are allowed to choose a new image or new background as you'd like. 
Stock photos in its library are readily accessible to use because it's integrated into the system. Photopea online photo editor lets you remove background from your photos, edit them easily, apply various effects, add filters add text, crop, or resize pictures as per your need. This online photo editor will remove the background of your picture free, and the performance is great.
The main advantage of Photopea is it loads very fast in your browser. Which is essential for online photo editing besides, Photopea allows users to drag and drop images into the browser window to upload. Then it is fairly easy to add to the scene and remove the unwanted background objects.
Have some limitations on basic filters and operations.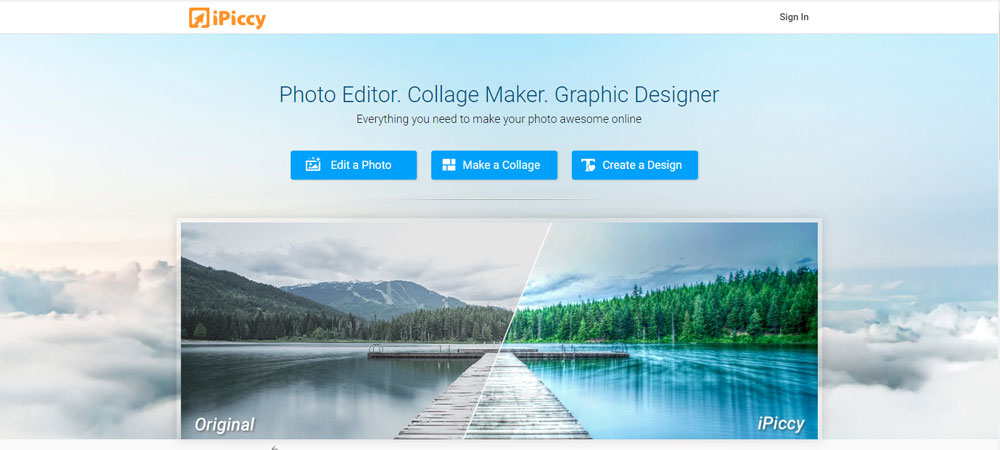 iPiccy is a free extension for the Google Chrome web browser. This software allows photo editors to edit photos directly from their browsers online. iPiccy comes with a variety of photo editing tools. This software provides a simple user interface to operate. It is fairly easy for users to find photos from the web archive or import them from their computer's hard drive. You can create beautiful photos by removing the unwanted background objects and make an amazing finished photo. Unlike other photo editors, iPiccy Photo Editor completely online. 
You can be accessed from anywhere from your computer running the Google Chrome browser with an internet connection. It requires only a few steps to delete the background and create a new amazing photo for your need. Users can perform many photo editing operations like crop and resize, adjust contrast and brightness, erase red eye blemishes, and exposure.
Can edit photos online with ease and effortlessly. You can add text or create collages of your photos.
Have limited support in other browsers other than Google chrome. To use this photo editor, you need to do your account registration.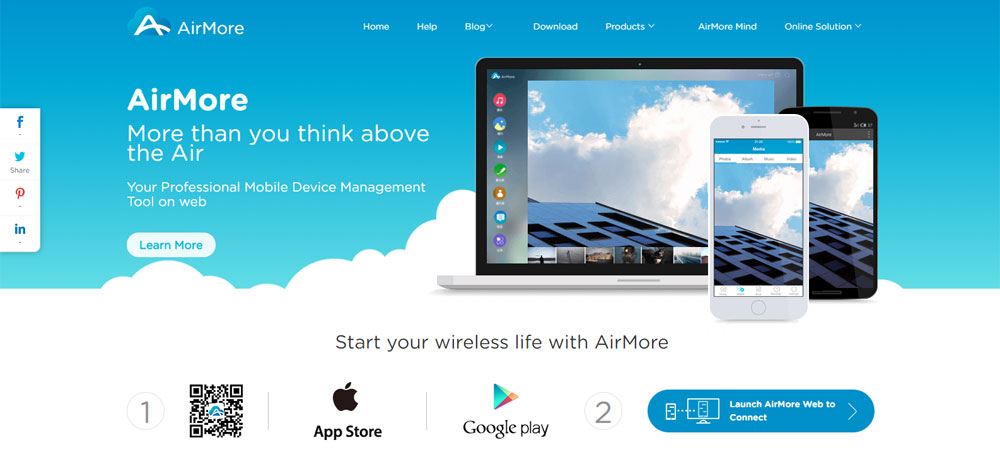 Airmore is an online background remover tool that automatically removes the background from your images for free. It offers a collection of powerful photo editing tools online. This photo editor can change photo backgrounds to create product photos with the desired background. Moreover, you can create greeting cards, social media posts, interesting pictures, or a banner for your website quite easily. 
This online background eraser has an integrated AI engine that learned from thousands of real-world images. Thus you will get a perfect photo that improves your web presence. It can easily recognize the person from the background in various contexts. The software is still developing its photo editing features. Thus we can expect even better photo editing capability in the future.
Airmore background removal tool is free. You can get better images with less energy, time, and money. In Airmore you can download your images free and with original quality. It also offers advanced photo editing features. Thus you have precise control over your edited images.
Have limited options to add filters or stickers to your photo.
These are a lot of free and paid online background remover tools for your images. However, finding the most useful and helpful one may take a few hours. To make your choice easier, we have analyzed the ten best online background remover tools. Moreover, they can automatically edit many photos since they do the background removal automatically, an artificial intelligence work behind that background removal process. Thus you can expect high-quality performance with these background remover tools.