Are you a graphic designer and want to buy the best laptop for graphic design? Graphic design is a creative work and also a challenging job. It requires advanced hardware and powerful software. In the current digital devices, the laptop is regarded as the most comfortable device to perform graphic design. Laptops are easy to operate and greater flexibility to movement than the desktop computer.
For this reason, most of the serious graphic designers and photo editors prefer to use the latest laptop to maximize design capability and quality. In this respect attributes such as mobility and weight are extremely important to choose a laptop. The other attributes in choosing a laptop are the processor's performance, screen size, battery life, storage capacity, memory size, portability, maximum features, and affordable price.
Fortunately, laptop providers are busy supplying the best-performing laptops for different categories and professions. Based on the specifications experts recommend buying best budget laptop for graphic design. Here in this article, we will discuss about seven best laptops for graphic design the context of 2022. These are the best budget laptops for graphic design but if you are a novice and do simple personal and social media graphics, then it is not mandatory to use these laptops. If you can afford it, you will feel graphic design is enjoyable.
Get Basic Idea And Specifications of The Best Laptops for Graphic Design:
  Specifications:
Display: Stunning 16-inch Retina Display with True Tone technology
Touch Bar and Touch ID
Graphics Card: AMD Radeon Pro 5300M Graphics with GDDR6 memory
Ram: 16 GB
Storage: 512 GB
Ultrafast SSD
Price: $2099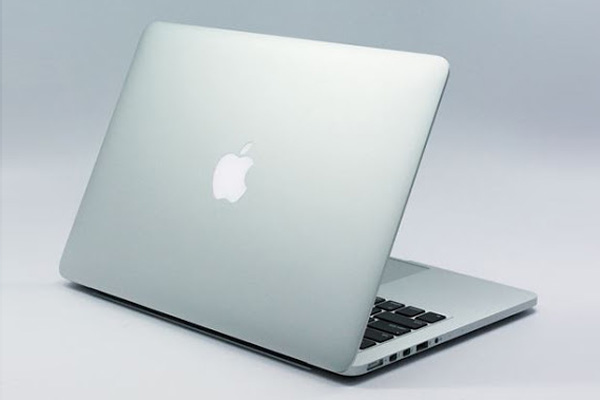 Apple always brings the best product in the market. If you are a fan of Apple and previously used it, then you will not be comfortable in using the Windows operating system and others. Apple brings some great laptops for various professionals. To keep in mind the graphic design the company brings Apple MacBook Pro for the design professionals. It is one of the best specifications for graphic designers, having better processing power, efficient specifications, and powerful software to fulfill the demand and requirements of your advanced graphic design. 
This laptop is equipped with the i7 processor and 16 GB of RAM. Besides this, the MacBook Pro comes with an AMD Radeon Pro graphics card. It contains a high-resolution screen, which is capable of handling extensive graphic applications such as animations, design software, and video editing.
This machine is also equipped with 512 GB of the flash storage. The laptop has a retina display with a 13.3-inch panel. That has the native resolution between 4K and full ultra HD.  The colors and other graphic design features make a stunning design. It also has a feature of true tone that gives the best screen's white balance, ambient light to the users. Thus, the Apple MacBook Pro is the first choice for graphic designers if they can afford it.
  Specifications:
Processor: Intel Core i7-5500U 2.4 GHz Processor. 8 GB DDR3L SDRAM
Storage: 1 TB 5400 rpm Hard Drive, 8 GB Solid-State Drive; DVDRW
Memory: 8 GB
Display: 17.3-Inch Screen, NVIDIA GeForce GT840M 2GB
OS: Windows 10, Battery Life: Up to 4 hours with an integrated 4-cell battery
Ports: 1 x USB 3.0, 2 x USB 2.0, RJ45, 4-in-1 card reader (SD, MMC, SDXC, SDHC), HDMI, RJ45, Audio Combo Jack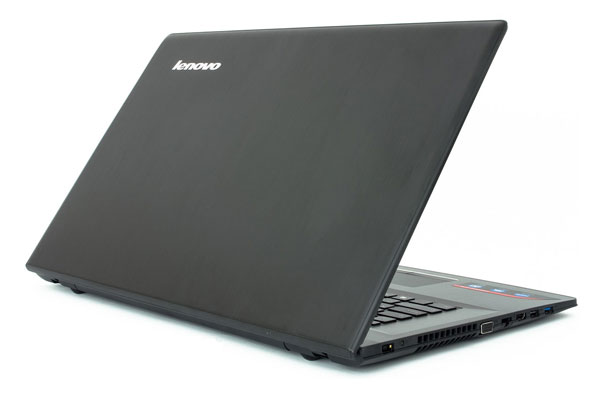 The best feature of the Lenovo Z70 laptop is its impressive large display. It brings the images and videos more attractive and spectacular, which provides the ultimate viewing experience. This laptop has sufficient processing power to satisfy the graphic designing requirements for the professionals. The Lenovo Z70 comes with an Intel Core i7 processor, and it has a full HD display size of 17.20 inches. The laptop contains 8 GB of RAM, and it has hard disk storage of 1 TB. 
This laptop runs on Windows 10 operating system and weighs about 2.99 kg which is considerably lightweight and thus highly portable. In communication and connectivity specifications, you will have Wi-Fi 802.11 ac. Besides, it has 2 USB ports, an HDMI port, one VGA port, and Mic in the ports.  
The Intel i7-5500U processor equipped with this laptop is a fifth-generation processor, and it has a base speed of 2.2GHz. It contains the turbo boost that goes all the way up to 2.7 GHz that is sufficient for the majority of your graphic applications, programs, and software that you might work. In terms of graphics, the Lenovo Z70 has an Nvidia GeForce GT840M processor for the Graphics, and it comes with 2 GB of the video RAM.
This graphics card is combined with the processor you get provides sufficient processing power to run most games, however, there are some intensive game titles where you would need to tone down the resolution and graphic settings for better performance.
The Lenovo Z70 has a decent battery life of close to 4 hours, and it should you get through most of your tasks in the day.
Overall what you get with Lenovo Z70 is a solid performer that is available at a reasonable price.
  Specifications:
Processor: 10th-generation Intel Core i5, i6, and i7
Graphics card: Nvidia GeForce GTX 1650 Ti and Intel Iris PlusGraphics card.
RAM: 8GB to 64GB
Display: 15.6″  
Storage: 256GB to 1TB SSD
Price: $1720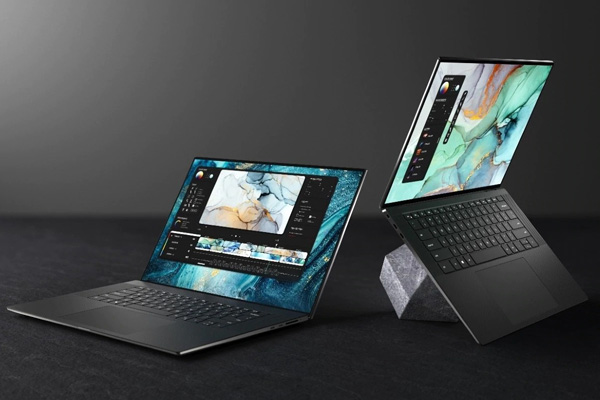 The Dell XPS 15 (2021) is an excellent graphic design laptop. It has greater flexibility in specifications. It is the latest update to Dell's 15-inch category. This laptop shows outstanding performance in photo editing and graphic design. It has got some of the updated, and best features for memory, CPU, and graphics card configuration. The upgraded configuration is ideal for image and video editing, and even better for a high configuration light gaming.
It comes with one of the latest designs we have seen in a laptop category. Many experts argue that it is the most stylish Windows 10 laptop on the market right now. It has a long battery life. Though the price of this laptop is high compared to other laptops, the performance is quite outstanding for graphic design.
  Specifications:
Processor: 7th Generation Intel Core i7-7700HQ Processor category Up to 3.8GHz
Screen: 15.6″ FHD, resolution (1920 x 1080)
Graphics Card: NVIDIA GeForce GTX 1050 Ti, 4 GB dedicated GDDR5 VRAM
Memory and Storage: 16GB DDR4 Memory, 256GB SSD
Accessories: HDD upgrade kit, have 2.5" bracket SATA and power cable.
Price: $1999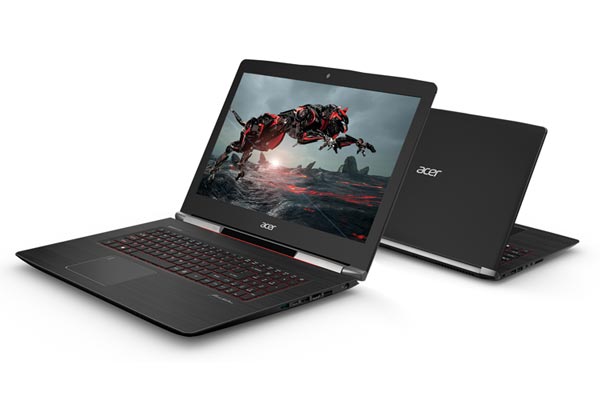 Acer regards as one of the well-performing brands in the laptop industry. The Acer laptops are reliable, and you can always expect excellent computing performance. The Acer Aspire V17 Nitro has an i7 processor and 2 GB of the graphical processing unit that makes this laptop powerful to accomplish the graphic design. It can also run visually intensive games superbly.
The Acer Aspire V17 Nitro comes with a 2TB of hard disk storage. It shows it has sufficient space for all of the storage requirements as high performing applications, movies, games, and music. The Acer Aspire V17 Nitro has 16 GB of RAM, which implies it is super responsive, and the laptop may multi-tasks different programs. It can run multiple applications efficiently without lagging or causing many delays.
Due to its high configurations and specs, the Acer Aspire V17 Nitro can use as a graphic design laptop. It has the powerful graphics card of Nvidia GeForce GTX 860M ensures that the consumers get to experience some of the smoothest gaming experience and graphics display. Battery life is extended and you can get approximately seven and a half hours of battery duration with this laptop on a single charge. In-display, the Acer Aspire V17 Nitro comes with a full HD panel. This panel is equipped with wide angles of view, and in-plane switching which gives the best user experience.
  Specifications:
Processor: 9th-generation Intel Core i7
Graphics: NVIDIA GeForce RTX 2060 – 2080
RAM: 16GB extend to 32GB
Screen: 15.6″, resolution (3840 x 2160)  
Storage: 1TB
Price: $1500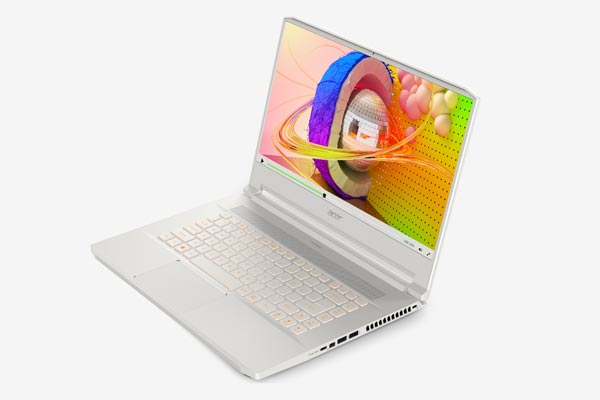 Acer ConceptD 7 is a high performing laptop especially built for the need of graphic designers. This laptop is much cheaper than MacBook Pro. But you can enjoy a similar design capability with this laptop. That is why it can be your perfect choice for graphic design. It has a good selection of ports to connect various design devices. 
The plain design makes it easy to operate. One downside of this laptop is it is not as thin and light as MacBook Pro. Still, if you think that MacBook Pros are expensive but you need a powerful laptop like Apple, then we suggest you buy the Concept 7. This high performing laptop can manage complex and demanding tasks. 
It contains the powerful Nvidia RTX graphics card. This was designed for creative and design professionals in mind. Beyond that extra power, it can offer decent port selection, a perfectly solid white design, and a super Pantone-validated powerful 4K IPS display. Once again we are reminding you, if you are looking for a Windows-powered MacBook alternative for your graphic design, it is the best selection for you.
  Specifications:
Screen Display: 15.6″ UHD, Resolution (3840X2160)
CPU: Intel core i7-9750h 2.6 – 4.5ghz
Graphics card: NVidia GeForce RTX 2060 6g gddr6 studio driver
Memory: 32GB 
Storage: 1tb Teton glacier
Price: $1,794.89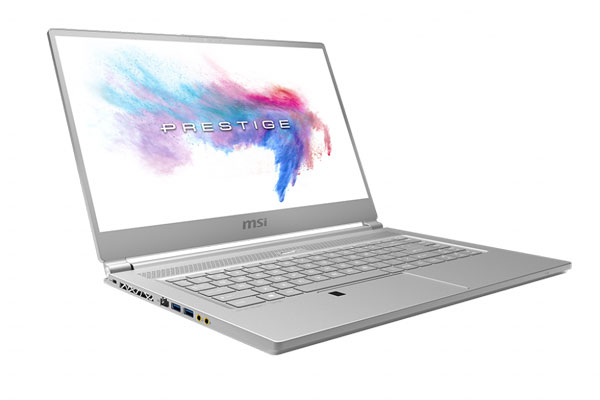 The MSI may not be a well-known brand like Apple, Acer, Lenovo, or Dell, but still, it manufactures some of the finest laptops for designers with great specifications and with different requirements. The MSI laptop is a perfect choice if you are looking for your graphic design work. Since, it comes with 1 TB of HDD / 128 GB SSD. When you consider the display, the MSI laptop comes with a 3840X2160 resolution. Here you will enjoy the greater detail of the design view on its 15.6″ screen. 
In terms of the graphics card, the MSI Creator is equipped with the Nvidia GeForce GTX graphics that help the machine to run various graphic extensive applications such as Adobe Photoshop, Corel Draw, and much high-resolution 3D software efficiently and smoothly. The keys on the keyboard are convenient to use and can be considered relatively durable. The MSI Computer has different communication ports such as Ethernet port, USB 3.0 ports, HDMI port, USB-C port, Display port connector, and all other regular ports. 
The battery also has a long back up capacity, which is ideal for graphic design if you have an electricity and power problem. In overall performance, the MSI laptop is a brilliant laptop for graphic design and gaming applications. Moreover, it provides efficient performance on its big screen, and you can buy it at an affordable price.  
  Specifications:
Processor: Powered by the latest Intel 8th Generation core i7-8550U Processor with 1.80GHz (4 Cores, 8MB Cache, up to 4.0GHz)
Display: 15.6″ Touch screen LED-backlit IPS 4K Ultra HD (3840 x 2160) resolution;
Graphics card: 2GB NVIDIA GeForce MX130 Graphics
Ram and Storage: 16GB DDR4 2400 SDRAM Memory for full-power multitasking; 1TB 2.5 SSD offer enough storage for your files
Communication: 802.11 Wireless-AC + Bluetooth 4.1; 1x USB 3.0 Type C, 2x USB 3.0 , 1x HDMI 1x Media Card Reader , 1x Combination Audio Jack , Integrated 720p Webcam , Audio by Harman , 2x 1.5w Speakers
Operating System: Windows 10 Home (64 bit), Backlit Keyboard with Fingerprint Reader, Active Stylus; at just 0.78″ thin and starting at 4.4 lbs., durable 360-degree hinge.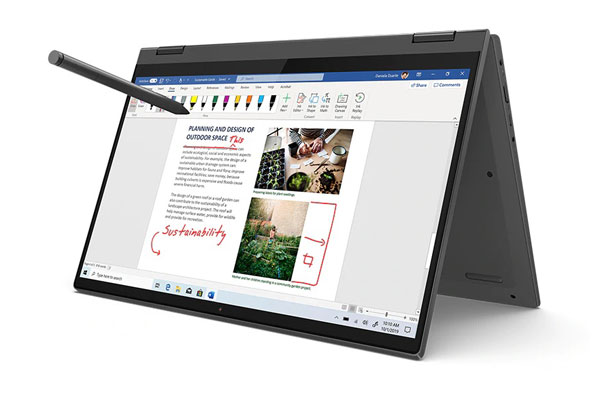 The Lenovo Flex5 is a great portable laptop for graphic designers. Due to its slick design, users can carry this laptop anywhere and work from there. The main advantages of this laptop include the affordable price, long battery life, IPS touch screen display, strongly build, spill-resistant, and overall smart performance. We can compare this laptop with the ASUS transformer in the same category; however, the ASUS transformer has a 12-inch screen whereas Lenovo Flex5 has a wide 15-inch display with the convertible touch screen.
If we consider the specs then we find the Lenovo Flex 5 comes with a convertible touch screen equipped with the i7 processor having 1.80GHz processing speed and 16 GB RAM. It has a large storage volume of 1 TB hard drive. Thus this powerful laptop will ensure processing, storage, and graphic requirements smoothly and efficiently. This laptop is very lightweight with weighs approximately 2 kg. Thus the compression of the design signifies its portable nature. And, which is beneficial for both the computer programmers and the graphic designers.
The Lenovo Flex 5 is a kind of hybrid, comes with the combination of a laptop and a tablet. Due to its unique feature and capability, other laptop manufacturers are launching products of similar design in the market. This laptop will give you a 180-degree hinge if you want to. Considering the flexibility movement, thickness, and weight, it might be problematic for any extended use. The Lenovo Flex 5 comes with an array of ports that provide the best external communication facility. This contains full-size Ethernet and HDMI, USB 2.0 port, USB 3.0 ports, and the SD card slot. Finally, it can be your good choice, if you want to buy this laptop solely for graphic design purposes.
For any graphic designer who is looking for a powerful and dependable laptop for professional and, high-quality design can pick any laptop that we have mentioned above. Regardless of being a professional graphic designer, a student, or just like any designer, you can consider buying any from the above list to get the top best performance in your graphic design; while many of these laptops are incredibly powerful. Consider all the seven laptops that we have discussed so far match with your budget and requirements. We hope you could find the best laptop for your graphic design needs.